EUROVISION 2019 -
TEL AVIV - ISRAEL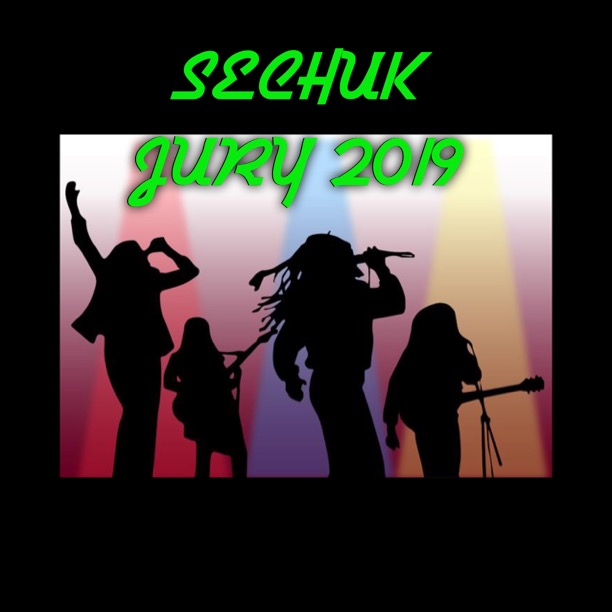 SECHUK JURY 2019 - RESULTS TABLE
The SECHUK JURY of 2019 will be a single jury (not split into UK/International as in previous years) and will comment on and scored the songs of TEL AVIV 2019 as they are chosen. The idea is that the songs will be voted on first impressions, as most TV viewers will do in May. The main difference is that in May they will be subject to the same production standards and opportunities, something that differs at National Selection stage. Individual Jury scores, plus an overall rating will be published. Here are the latest votes and positions of the 22-strong Jury:
MEET THE JURY CHECK OUT THE SONGS
UPDATE - FINAL RESULTS (24/03/19)
We now have a top 41 and have scored UKRAINE's withdrawn song to see how it would fare with the Jury. As you can see, Ukraine would currently be in 11th place...
OUR QUALIFIERS FROM THE SEMI FINALS
SEMI FINAL 1

SEMI FINAL 2

AUSTRALIA

Zero Gravity

ALBANIA

Ktheju Tokes

BELGIUM

Wake Up

ARMENIA

Walking Out

CYPRUS

Replay

AZERBAIJAN

Truth

CZECH REPUBLIC

Friend Of A Friend

DENMARK

Love Is Forever

ESTONIA

Storm

MACEDONIA

Proud

FINLAND

Look Away

NETHERLANDS

Arcade

GREECE

Better Love

NORWAY

Spirit In The Sky

HUNGARY

Az En Apam

RUSSIA

Scream

SAN MARINO

Say Na Na Na

SWEDEN

Too Late For Love

SERBIA

Kruna

SWITZERLAND

She Got Me
OUR FINAL POSITIONS (latest additions are shaded pink)
Check out how close this is - THREE songs tied in second place and could only be split by the number of 9.5 and 9 scores received.
In the only other tie, one x 9 puts Montenegro just ahead of Germany. Germany finishes a lowly 39th, placing it 26th in our positions for the FINAL.
Congratulations to the Netherlands, Switzerland, Norway, Russia and Italy who make up our top 5!
Q - Qualifier , F - Our resulting position in the Final
POS

Q

F

TOTAL

COUNTRY/SONG

01

02

03

04

05

06

07

08

09

10

11

12

13

14

15

16

17

18

19

20

21

22

TOTAL

JUROR

AH

BB

DL

DB

DE

DA

DR

ES

ET

EL

FB

GS

JR

KB

MMc

MP

MM

PC

RG

RM

SF

SR

01

SF2

Q

01

169.5

NETHERLANDS

Arcade

10

10

6

7

6

7.5

10

8

9.5

7

4

7.5

6.5

8

8.5

8.5

6

8.5

10

6.5

7

7.5

169.5

02

SF2

Q

02

164

SWITZERLAND

She Got Me

9.5

8

6

7

8.5

9.5

7

9

8.5

8.5

5.5

9.5

7

8

7

7.5

6

3.5

7

6.5

7

8

164

03

SF2

Q

03

164

NORWAY

Spirit In The Sky

9

2.5

9

5

8

8.5

9

9

9.5

9

7

2

8

9

6.5

8.5

8

6

9.5

8

7

6

164

04

SF2

Q

04

164

RUSSIA

Scream

6

7.5

5

7

7

6

7

8.5

8

7

9.5

9.5

8.5

9

6.5

8

9

7

7.5

8.5

6

6

164

05

F

05

163

ITALY

Soldi

6.5

9

5

7

7.5

9

10

8.5

9.5

8

6

9

3

8

9

8.5

7

2

9.5

5

7

9

163

06

SF2

Q

06

161.5

AZERBAIJAN

Truth

8

3.5

6

8

9

9.5

7

8.5

7.5

8.5

6

5.5

8.5

9

6

7

5

9

7

7

7

9

161.5

07

SF2

Q

07

160

SWEDEN

Too Late For Love

7

2.5

6

6

9.5

9.5

9.5

9

9

9.5

4.5

7.5

7

8

7.5

9

7

6.5

2

7.5

9

7

160

08

SF1

Q

08

159.5

GREECE

Better Love

8.5

3

9

4

7

7

7

8.5

4.5

8

3.5

6.5

8.5

8

8.5

9

7

9

10

6

8

9

159.5

09

SF2

Q

09

157.5

MACEDONIA

Proud

6

7.5

9

7

8.5

7

9

9

8.5

7

9.5

8

7

4

4.5

6

7

6

7

7

5

8

157.5

10

SF1

Q

10

156.5

BELGIUM

Wake Up

7

7

6

6

8

9

9.5

6.5

8

6

8.5

7

9

8

7

6.5

4

8

5

5.5

7

8

156.5

JUROR

AH

BB

DL

DB

DE

DA

DR

ES

ET

EL

FB

GS

JR

KB

MMc

MP

MM

PC

RG

RM

SF

SR

11

SF2

Q

11

152

ARMENIA

Walking Out

6

8.5

10

5

5

6.5

8

7

5.5

7.5

6.5

7.5

8

6

5.5

6.5

6

7

8.5

7

6

8.5

152

12

SF2

Q

12

151.5

DENMARK

Love Is Forever

6

3.5

8

8

10

8.5

8

6

8

8

5

8

7

5

5

6

7

6.5

7.5

7

7

6.5

151.5

13

SF2

Q

13

149

ALBANIA

Ktheju Tokes

7.5

4.5

7

5

8

6

9

7

6.5

8

5.5

9

8

5

4

8.5

5.5

9.5

8

5.5

5

7

149

14

SF1

Q

14

145

CYPRUS

Replay

9.5

2

10

6

8

7

6.5

8

8

6

3.5

5

7

5

7.5

8

3

7.5

5.5

7

8

7

145

15

F

15

142

UNITED KINGDOM

Bigger Than Us

6

10

5

5

9

7

6

8.5

8

6

4

6.5

6.5

0.5

8

7

7

6

8

6.5

6

5.5

142

16

SF1

Q

16

141.5

HUNGARY

Az En Apam

5.5

9

6

6

5.5

7.5

8.5

7.5

8.5

8.5

4.5

3

6.5

5

8.5

7.5

8

9

5

3

2

7

141.5

17

SF1

Q

17

139.5

ESTONIA

Storm

7

3

5

3

7.5

8

7

8

8.5

4

3

7

6

7

7

7.5

7.5

6

8

7.5

6

6

139.5

18

F

18

138.5

ISRAEL

Home

4

10

1

4

4.5

6.5

5

8

8

6.5

6.5

8.5

8.5

8

5

5

8

7.5

7

5

8

4

138.5

19

F

19

137.5

SPAIN

La Venda

8.5

3

6.5

3

8.5

9

7

5

9

4

0.5

8

3

7

7.5

7

5

7

8.5

7

6

7.5

137.5

20

SF2

137

IRELAND

22

6

3

6

7

7.5

7

7.5

7

7

5

5

6

6.5

4

6

5.5

8

6

7

6

7

7

137

JUROR

AH

BB

DL

DB

DE

DA

DR

ES

ET

EL

FB

GS

JR

KB

MMc

MP

MM

PC

RG

RM

SF

SR

21

SF2

135

LITHUANIA

Run With The Lions

6.5

2.5

5

5

6.5

5.5

5.5

7.5

7

5

4

9

8

6

6.5

7.5

7

7.5

5

7.5

4

7

135

22

SF2

134.5

MALTA

Chameleon

9

8

10

4

3.5

6

7

7.5

8

4

5

6

7

5

3.5

9

4

5.5

6

5.5

3

8

134.5

23

SF1

Q

20

133.5

SAN MARINO

Say Na Na Na

3

0.5

5

8

9.5

8.5

6

7

7

7.5

8.5

7

6.5

7

4

4

8

2

5

7

5

7.5

133.5

24

SF1

Q

21

132

AUSTRALIA

Zero Gravity

7

8

8

5

10

3

6.5

5.5

5

2

9

2

5.5

7

2

9.5

6

9

5.5

5

5

6.5

132

25

SF1

Q

22

131.5

CZECH REPUBLIC

Friend Of A Friend

5

9

5.5

8

4.5

6

6.5

7

6

4

1.5

6.5

8

7

5.5

6.5

2

6

6

7

7

7

131.5

26

SF1

Q

23

131

FINLAND

Look Away

5.5

2

5

6

7

5

7.5

7

9

6.5

1.5

5

7

6

5.5

5

8

5.5

6

6

8

7

131

27

SF1

Q

24

128.5

SERBIA

Kruna

5.5

7

8

7

4

7

5

7

6.5

8

4.5

4

5

2

4.5

6.5

7

6

4

6

7

7

128.5

28

SF2

123

ROMANIA

On A Sunday

8.5

2.5

8

4

4.5

5.5

4

6.5

6.5

7

5

9

6

2

4

8

5

5.5

5

5.5

4

7

123

29

SF1

119.5

BELARUS

Like It

4.5

3

9

4

2.5

7

6

7.5

7

7

4.5

5

6

7

4

5

3

5.5

5

6

5

6

119.5

30

F

25

118

FRANCE

Roi

6.5

6.5

3

3

3

7

7.5

5

7

3

4

4

4.5

4

4

8.5

5.5

9

7.5

6.5

4

5

118

JUROR

AH

BB

DL

DB

DE

DA

DR

ES

ET

EL

FB

GS

JR

KB

MMc

MP

MM

PC

RG

RM

SF

SR

31

SF2

117.5

MOLDOVA

Stay

4.5

4.5

7

2

7

6

5

7

6.5

4

5

4

7

8

4

4.5

7

3

4.5

7

6

4

117.5

32

SF1

116

ICELAND

Hatrid Mun Sigra

9

6.5

5

6

9.5

6.5

1

5

7.5

0.5

2

2

3.5

4

5

8.5

1

10

6

0.5

8

9

116

33

SF1

115.5

SLOVENIA

Sebi

8

4

10

4

6

5.5

7

4

0.5

2

2.5

5.5

6

2

5.5

5.5

3.5

9.5

4.5

6.5

5

8.5

115.5

34

SF2

113

AUSTRIA

Limits

4.5

4

6

7

3.5

5

5

7

5.5

3

5.5

4

3

2.5

7

8.5

3

7

4.5

5

6

6.5

113

35

SF2

112

CROATIA

The Dream

3.5

1

2

2

6.5

4

4.5

6

5

7

8

3

7.5

8

4

5.5

9

2.5

4

9

6

4

112

36

SF1

110.5

POLAND

Fire Of Love

3.5

5

6

6

5.5

6.5

3.5

5.5

7.5

6

5.5

4

7

1

6

7.5

3

7.5

3

1

5

5

110.5

37

SF2

108

LATVIA

That Night

6

5

7

4

2

5.5

5

4.5

5.5

4

4

3

6.5

5

3.5

4.5

3

7.5

6

6

4

6.5

108

38

SF1

98

MONTENEGRO

Heaven

3.5

4.5

6

3

2

4.5

4.5

5

6.5

3

0.5

5.5

6.5

6

2.5

4

4.5

2

7

9

4

4

98

39

F

26

98

GERMANY

Sister

6

4

7

6

7

4

6

6.5

3

7

5.5

2

7

5.5

3.5

6.5

5.5

7

4.5

6

6

4.5

98

40

SF1

97.5

PORTUGAL

Telemoveis

9

5

4

6

0.5

1

2

6

6

3

10

1

3

1

0.5

7

2

10

2

4

6

8.5

97.5

41

SF1

90.5

GEORGIA

Sul Tsin Iare

4

3.5

2

2

5.5

3

2.5

5

7.5

8

3.5

6

6

1

3.5

5

2

3

5

5

2

5.5

90.5

JUROR

AH

BB

DL

DB

DE

DA

DR

ES

ET

EL

FB

GS

JR

KB

MMc

MP

MM

PC

RG

RM

SF

SR

X

SF1

154.5

UKRAINE

Siren Song

9.5

8

10

7

9.5

9.5

6

9

7

7.5

7

3

6

8

8.5

0.5

5

8

5.5

6.5

5

8.5

154.5