A MESSAGE FROM MOSCOW
Dear friends,
On the 8th of May in the "Central House of Artist" (Moscow) the draw for OGAE Song Contest 2005 took place!!
At first it was planned to organise it in the park of the "Central House of Artist", but due to a sudden cloud-burst we had to move to some very nice cafe.
Before the start of the draw, all OGAE Russia members received the CD-singles of Natalia Podolskaya.
The draw was organised in the following way:
Each member of OGAE Russia took it in turns to draw lots and Ksyusha, our Video Song Contest Coordinator, added them to a special table, prepared in advance.
After the end of the draw, we started to receive phone calls from some of the presidents of other clubs, who were very curious to know what number their countries were drawn.

The draw wouldn't be a real draw without some problem or other. When everything finished, OGAE UK confirmed its participation. We decided to let our British friends in and made a special additional draw, which was a bit different to the previous one. We made 30 rolls with numbers (from 1 to 30) and started to draw them one by one until the last roll remained in the bottom of the bag. It was Number 13! So that's presentation number for the United Kingdom.
After all this "hard" work, 3 members of OGAE Russia decided to take a break with a cup of coffee and ice-cream with chocolate and oranges.
Below you may see the final table: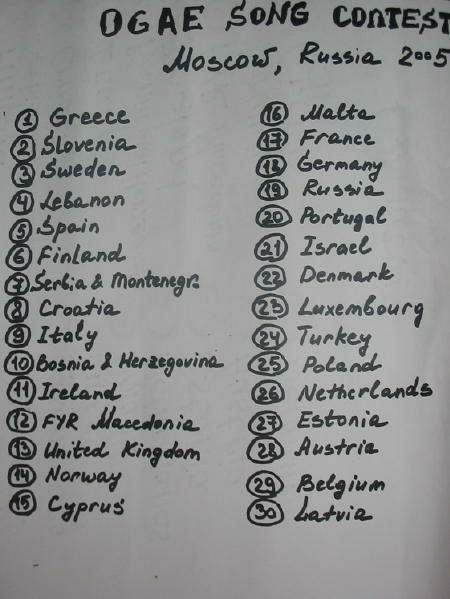 In addition to all of this, the official OGAE Song Contest Logo was selected. By a majority of votes the logo made by Anton Kudrevich from Volgograd won the day - Anton will get a prize from OGAE Russia as well as a special present from Natalia Podolskaya.
THE OFFICIAL LOGO BY ANTON KUDREVICH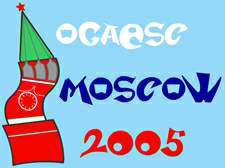 Vlad Yakovlev, OGAE Russia
(Good luck to everyone in the Eurovision Song Contest and let the best song win!)