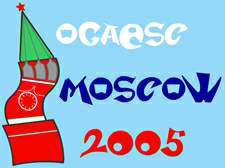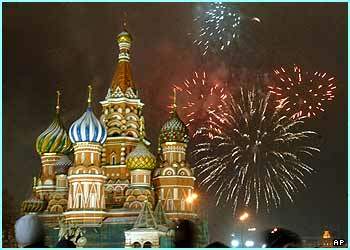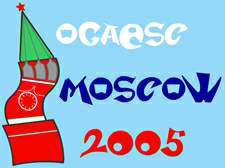 КОНКУРС ПЕСНИ ОГАЕ 2005 – Москва, Россия
OGAE SONG CONTEST 2005 - MOSCOW, RUSSIA
THE RESULTS
Click here for entries list Click here for the Draw Click here for the Programme
Courtesy of OGAE Russia (Spassiba!)
FINAL DAY! WE HAVE A WINNER!
And here is the amazing (and traditionally Russian) Trophy for the winning country - click on the picture and take a close look at the labelling. Also, a photo of Vlad and Julia from OGAE Russia with the Trophy.
Huge thanks and Congratulations to OGAE Russia for a superb event! Spassiba!
DAY 10 - 10 Feb - And the final positions are...
FINAL VOTING FROM - Austria, Belgium
| | | | | | | | | | | | | | | | | | | | | | | | | | | | | | | | | | |
| --- | --- | --- | --- | --- | --- | --- | --- | --- | --- | --- | --- | --- | --- | --- | --- | --- | --- | --- | --- | --- | --- | --- | --- | --- | --- | --- | --- | --- | --- | --- | --- | --- | --- |
| | GR | SI | S E | L B | E S | F I | C S | HR | I T | BA | I E | MK | UK | NO | C Y | MT | FR | DE | RU | PT | IL | DK | LU | TR | PL | NL | EE | AT | BE | | T | P | |
| Greece | | | 4 | 2 | 10 | 3 | 10 | | 4 | | 2 | | 3 | | 8 | 1 | 7 | 10 | | 12 | | | | 12 | 12 | 8 | 5 | 10 | 6 | | 129 | 02 | Greece |
| Slovenia | | | | | 1 | | | | | 5 | | | | | 1 | | | | | | | | | | | | | | | | 7 | 27 | Slovenia |
| Sweden | | | | | 7 | 6 | 4 | | | 12 | 12 | 5 | 12 | 12 | | | | 1 | | 3 | | 12 | 4 | | | 4 | 10 | 7 | | | 111 | 05 | Sweden |
| Lebanon | | | | | 4 | | | 4 | | 4 | | | 8 | 2 | | 2 | | | | | | | | 8 | 7 | 3 | | | 1 | | 43 | 16 | Lebanon |
| Spain | 7 | 6 | | 6 | | 1 | 5 | 3 | | | | 3 | | | 12 | 4 | 10 | | | 10 | 6 | | | | | 1 | 2 | | | | 76 | 10 | Spain |
| Finland | | | | | 3 | | | | | | | | | 8 | 2 | | | | 5 | 8 | | 10 | 2 | | 1 | 6 | | 5 | | | 50 | 15 | Finland |
| Serbia & Mont. | | 7 | 3 | 3 | | | | 2 | | 2 | 1 | | | | 7 | | 6 | | | | 3 | | | | 3 | 5 | | | | | 42 | 18 | Serbia & Mont. |
| Croatia | | 8 | | 8 | | 7 | 12 | | 8 | | 4 | 12 | | 7 | | | | | 7 | 1 | 7 | | 8 | 1 | | 2 | 8 | | | | 100 | 07 | Croatia |
| Italy | 5 | 4 | 10 | 10 | 5 | 2 | 7 | 8 | | 7 | 7 | 8 | 4 | 4 | 3 | 10 | 8 | 6 | 6 | 2 | 10 | 6 | 3 | 5 | 6 | 10 | 4 | 2 | 2 | | 164 | 01 | Italy |
| Bosnia & Herz. | | | | | | | | | | | | | | | | | | | | | | | | 2 | | | | | | | 2 | 28 | Bosnia & Herz. |
| Ireland (*) | | | | | | | | | | | e | | | d | i | s | q | u | a | l | i | f | i | e | d | | | | | | | | Ireland |
| FYR Macedonia | | | | | | | 1 | 7 | 6 | | | | | | 10 | | | | | | | | | 10 | 8 | | | | | | 42 | 17 | FYR Macedonia |
| United Kingdom | 4 | 12 | 12 | | | | | 6 | 7 | | 6 | 10 | | | | 12 | 1 | 12 | | 5 | | 8 | | | 10 | | | 3 | 10 | | 118 | 04 | United Kingdom |
| Norway | 3 | | 8 | | | | 2 | | 12 | | | 4 | | | | | | 4 | 4 | 4 | 4 | | 7 | | 2 | | | | | | 54 | 13 | Norway |
| Cyprus | | | | | | 4 | | | | 3 | | | | | | 6 | | | | | | | | 3 | | | | | | | 16 | 25 | Cyprus |
| Malta | | | | 4 | | | | | 1 | | 3 | | 7 | | | | | | | | | 3 | | | | | 12 | 1 | | | 31 | 19 | Malta |
| France | 12 | | 2 | 5 | | 10 | 3 | 5 | 10 | 10 | 5 | | 5 | 1 | | 3 | | | 1 | 6 | 8 | 7 | 6 | | 5 | | 7 | | 8 | | 119 | 03 | France |
| Germany | 2 | | | | | | | | | | | | | | | | | | | | 2 | | 10 | | | | | 8 | | | 22 | 22 | Germany |
| Russia | | 1 | 7 | 1 | 2 | 8 | | 10 | 3 | | 10 | | 2 | 5 | 6 | 5 | 4 | | | | 1 | | | 6 | | | 6 | | 5 | | 82 | 09 | Russia |
| Portugal | 6 | 2 | 1 | | 12 | | | | | | 8 | 2 | 6 | | 4 | | 2 | 2 | | | | 1 | | | | 12 | 1 | 12 | 12 | | 83 | 08 | Portugal |
| Israel | | | | 7 | 8 | | 6 | | 2 | 8 | | | | | | 8 | 5 | | 8 | | | | | | | | | | | | 52 | 14 | Israel |
| Denmark | | | 6 | | | | | | | | | | 1 | | | | | | | | | | 12 | | | | | 4 | | | 23 | 21 | Denmark |
| Luxembourg | | | | 12 | | | | | | | | | | | | | | | | | | | | | | | | | | | 12 | 26 | Luxembourg |
| Turkey | 1 | 3 | | | | 5 | | 12 | | 6 | | 1 | | 10 | | | | | 2 | | | 5 | | | 4 | 7 | | | 7 | | 63 | 12 | Turkey |
| Poland | | | | | | | | | | | | | | 6 | | | | | 12 | | | | | | | | | | | | 18 | 24 | Poland |
| Netherlands | | 5 | | | | | | 1 | | | | | | | | | | 8 | | | | | | | | | 3 | | 4 | | 21 | 23 | Netherlands |
| Estonia | 8 | | | | 6 | 12 | 8 | | | 1 | | 7 | | 3 | 5 | 7 | 3 | 3 | 3 | 7 | 12 | | 5 | 7 | | | | 6 | 3 | | 106 | 06 | Estonia |
| Austria | | | | | | | | | | | | 6 | 10 | | | | | 5 | | | | 2 | 1 | 4 | | | | | | | 28 | 20 | Austria |
| Belgium | 10 | 10 | 5 | | | | | | 5 | | | | | | | | 12 | 7 | 10 | | 5 | 4 | | | | | | | | | 68 | 11 | Belgium |
(*) - Ireland disqualified - song released in 2001