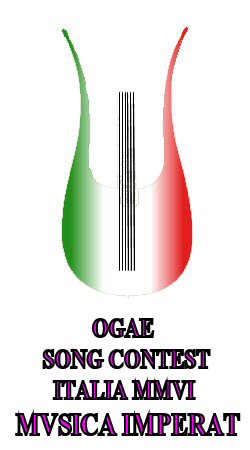 CIAO A TUTTI!

OGAE ITALY INVITES YOU TO....
.... the OGAE SONG CONTEST 2006 ... NEWS PAGE
COMPLETE LINE-UP & LATEST NEWS!
Click here to see all OGAE SONG CONTEST Winners since 1986
28 Dec 06 - Full Results available here
23 Nov 06 - Andorra and UK disqualified! Both entries have an original release date of 2004.
17 Nov 06 - Armenia joins Moldova as a Guest Jury!

04 Nov 06 - Matteo from the OGAE Song Contest 2006 Team issues news today about the Official Prize to be awarded to the winning Club of the OGAE Song Contest - ITALIA MMVI. The prize is a Bronze Sculpture taken from a very famous ancient Etruscan Statue called: "THE SHADOW". (Click picture for a closer look)
01

ALBANIA

Papritur

Blero

(Suddenly)

02

BOSNIA-HERZEGOVINA

Vjecna Robija

Igor Vukojevic

(Eternal Punishment)

03

SPAIN

Mi Mundo Sin Ti

Soraya

(My World Without You)

04

SERBIA

Ti

Aleksandra Kovac

(You)

05

AUSTRIA

Vergib Mir

Andreas Rauch

(Forgive Me)

06

MALTA

07

CROATIA

Prava ljubav

Lana & Luka Nižetic

(The Real Love)

08

SWEDEN

Jag ĺngrar ingenting

Lena Philipsson

(I Dont Regret a Thing)

09

FRANCE

Gabriel

Najoua Belyzel

(-)

10

ITALY

Irraggiungibile

L'aura

(Unreachable)

11

BELGIUM

Stand Van De Maan

Dana Winner

(Position of The Moon)

12

NETHERLANDS

Dan Ben Ik Van Jou

Edsilia Rombley

(Then I'm All Yours)

13

FINLAND

Saat Saattaa Mua

Taiska

(I'll Let You Escort Me)

14

UKRAINE

Moe Serce

Lama

(My Heart)

15

LEBANON

Baya Il Ward

Amal Hijazi

(The Flower Lady)

16

RUSSIA

Ya Tebia Pomniu

Dima Bilan

(I Remember You)

17

GERMANY

Ich Bin Ich (Wir Sind Wir)

Rosenstolz

(I Am Me, We Are Us)

18

NORWAY

Natta Vi Har

Helene Břksle

(The Night We Have)

19

TURKEY

Bir Seni Konusurum

Göksel

(Talking Of You)

20

GREECE

Mambo

Elena Paparizou

(-)

21

SLOVENIA

22

IRELAND

The Famine

Ronan Hardiman

(-)

23

MACEDONIA

Ruza Ruzica

Karolina

(Rose, Little Rose)

24

ISRAEL

Le'an Shelo Telhi

Shiri Maimon

(Wherever You Go)

25

DENMARK

Kys Tćnder Drřmme

Lis Sřrensen

(Kisses Turn On Dreams)

26

ANDORRA

DISQUALIFIED

Insomni

Marte Roure

(Insomnia)

27

UNITED KINGDOM

DISQUALIFIED

You're Beautiful

James Blunt

(-)

28

REST OF THE WORLD (Armenia)

Ayntegh

Anna Khachatryan & Empyray

(There)

29

POLAND

Niech Mówią , Że To Nie Jest Miłość

Olga Szomańska & Przemysław Branny

(Let Them Say That There Is Not Love)

30

PORTUGAL

Chegar A Ti

Rita Guerra

(To Reach You)
OTHER NEWS
ALBANIA
RESULT NOW ANNOUNCED
17 Songs in the running to represent Albania for the first time in the OGAE Song Contest. UPDATE - Winner chosen - you can hear it here - http://www.ogaealbania.com/
BOSNIA-HERZEGOVINA
RESULT NOW ANNOUNCED
CROATIA
RESULT NOW ANNOUNCED
16 Songs fighting for the right to represent Croatia including entries from Tony Cetinski and Vesna Pisarovic. Check the official site here - http://www.geocities.com/ogae_croatia/club-sc2006
FRANCE
RESULT NOW ANNOUNCED

The French jurors must send their final votes before July 25th so that the winning title can be made public on time for the deadline given by the organisers. 5 songs are left in the Big Final round, all performed by a lady : in alphabetical order, Myriam Abel, Eve Angeli, Najoua Belyzel, Lââm and Ginie Line.

ISRAEL
RESULT NOW ANNOUNCED
In Israel we have for the first time a big pre-selection titled "sabress 2006". There were 37 songs competing in 3 semi-finals. Right now we are voting for the last 3rd semi final. The voting takes place through a very known esc forum website in Israel.

On Tuesday (25 July) the list of the 12 finalists will be announced & by 31st July we will have the Israeli hope for a 2nd victory in OGAESC.

LEBANON
RESULT NOW ANNOUNCED

OGAE Lebanon with its 9 members now decided to select a song for the OSC 06 internally , 2 female singers were nominated and both songs were ballads.

Amal Hijazi with Baya il ward ( The Flower Lady) won with her jazz ballad with 84 points over Maya Nasri's , Rouh ( Go ).

RUSSIA
RESULT NOW ANNOUNCED
16 Songs in the running for Russia, including entries from Dima Bilan, Varvara and Julia Savicheva. Check http://ogae.ru/competitions/ogaeesc/2006/ to listen.
SLOVENIA
RESULT NOW ANNOUNCED
Result Due 01 August 2006. Fifteen songs in the running, including entries from Anžej Dežan , Regina, Nuša Derenda , Omar Naber and Saša Lendero... Check out http://www.klub-ogae.si/tekmovanja_sc06.htm
SWEDEN
RESULT NOW ANNOUNCED
The Swedes have until July 25 to vote for their favourite non-ESC song for OSC06.
OFFICIAL WEB SITE : www.ogaesc2006.com
05 April 06 - from Matteo Aldrovandi (updated 01 May 06)
I'm very pleased to inform you of the Countries, up to now, who have confirmed participation in the:
OGAE SONG CONTEST - ITALIA MMVI
Of course, this is in alphabetical order. The Draw will take place on 08th May during a special OGAE Italy meeting.
ALBANIA (New) - ANDORRA (New) - AUSTRIA - BELGIUM - BOSNIA HERZEGOVINA - CYPRUS - CROATIA - DENMARK - FINLAND - FRANCE - GERMANY - GREECE - IRELAND - ISRAEL - ITALY - LEBANON - MACEDONIA - MALTA - NETHERLANDS - NORWAY - POLAND - PORTUGAL - REST OF THE WORLD - ARMENIA (New) - RUSSIA - SERBIA MONTENEGRO - SLOVENIA - SPAIN - SWEDEN - TURKEY - UKRAINE (New) - UNITED KINGDOM
Several new OGAE Clubs will participate for the very first time. Among them - OGAE Rest of the World with a song from Armenia.
No reply yet from : OGAE Bulgaria, Estonia, Latvia, Lithuania, Romania despite several email invitations. The deadline to confirm participation in OGAE Song Contest 2006 is 01st May 2006.
More News soon! CIAO!