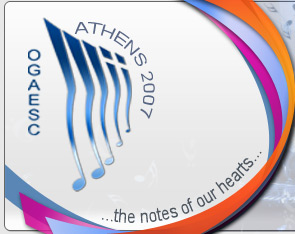 ..
OGAE SONG CONTEST 2007 - Greece
January 2008 - RESULTS NOW AVAILABLE - Click here!!
With thanks and Congratulations to OGAE Greece for their hosting of the 2007 event!
Aug 07 - It all started in February, now see below for details of all the Entries for 2007
INFORMATION - For more information or registration, contact - info@ogaesc2007.com
OFFICIAL SITE - Check out the official web site - www.ogaesc2007.com- You can check out the previous winners with the login details below.
ENTRIES - Entries expected from - GREECE, ITALY, SPAIN, MACEDONIA, BELGIUM, FRANCE, NETHERLANDS, ISRAEL, the UNITED KINGDOM, UKRAINE, ESTONIA, DENMARK, MALTA, PORTUGAL, CROATIA, TURKEY, RUSSIA, LEBANON, NORWAY, the REST OF THE WORLD/AUSTRALIA, CYPRUS, ALBANIA and GERMANY and more....
SONG LIST - See Below.
PREVIOUS WINNERS - To hear the previous winners, go to the official OSC07 Site, select winners and use the Username "ogae" Password "login". A list of the OSC Winners is also available here.
Good Luck and Thanks to OGAE Greece with this huge venture in 2007!
OGAE SONG CONTEST 2007 - Greece - The Entries