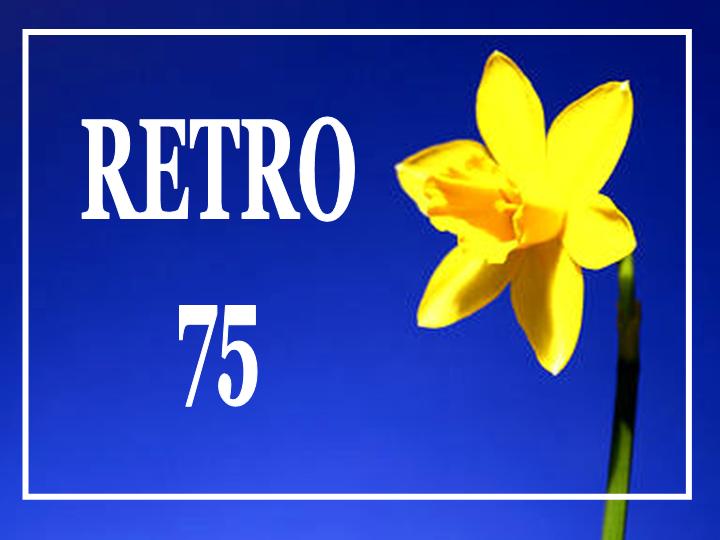 SECOND CHANCE RETRO / GUEST JURY HITS 1975
OGAE clubs can provide feedback on the 1976 contest, looking forward to the 1975 contest here
EARLY REGISTRATION / INTEREST
Andorra and the United Kingdom
TAKE YOURSELF BACK TO 1975....
WHAT A GREAT YEAR! (DATES AND RULES BELOW)
JOIN IN THE RETRO FUN ? RETRO KANN EINE BRÜCKE SEIN....
RETRO SONG OPTIONS
SECOND CHANCE RETRO 1975 & GUEST JURY HITS 1975
Hello OGAE friends!
A little earlier than usual, but this is your formal invitation to take part in SECOND CHANCE RETRO and GUEST JURY HITS , this time for 1975!
If your country held a National Final in 1975, you can enter a song from that final (not the winner) to Second Chance Retro 1975.
If your country did not hold a National Final in 1975, you can enter a hit song from your country from 1975 to Guest Jury Hits 1975.
Or, you can be a guest jury without a song in either contest (ie voting only).
Participation is free and the songs will be made available via a free download (although you will need to provide your own entry).
You can see dates and rules below. Voting will take place in the summer of 2014. I will need your song file by the end of June 2014.
DATES FOR RETRO & GJH 1975
- Formal Invitation to all Clubs – 09/09/13 – COMPLETE

HERE
- Participation Confirmation Deadline – 30/06/14
- Song File, Artist Picture to be with SECHUK by – 30/06/14
- Order of Presentation Draw - 07/07/14
- Songs available for voting from - 15/07/14
- National Voting Period to 31 August 2014 (may be extended)
- On-Line Voting Reveal Starts 09 September 2014 (5 to 7 days)..
RULES FOR RETRO & GJH 1975
1. There are no direct costs for participation.
2. OGAE Clubs (where the Country held a National ESC Final for the Retro year in question) can choose their favourite (non-winning) song from their ESC Selection of that year for SECOND CHANCE RETRO.
3. All other OGAE Clubs can participate as Guest Juries for Second Chance Retro and also enter a Hit Song from the same year in GUEST JURY HITS .
4. A Guest Jury can still be a Guest Jury voting on both Contests without an entry in either Contest.
5. SECHUK will be the web resource for both Second Chance Retro and Guest Jury Hits.
6. Both SECOND CHANCE RETRO and GUEST JURY HITS are voted on by the same juries, from the same sound tracks (via free download links) and voting is revealed on both contests via this site. All Jury members must vote on both contests to keep the voting fair and even.
7. In some cases, OGAE Clubs decide not to participate, but with the agreement of (or ignored reporting to) that club, a fan in their country can arrange that country's participation instead (an active rule - added to the site 28/07/11 ) - this is purely to maximise participation.
8. Dates are issued (above) for the whole programme. Participating Clubs agree to abide by the deadlines, or face possible disqualification.
9. All clubs must position all songs in their voting. If any country does not submit votes by the agreed deadline, their song could be disqualified and all voting towards that song discounted.