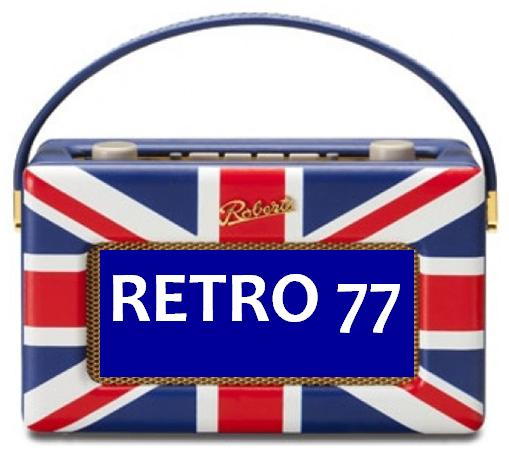 Warming up...
......
SECOND CHANCE RETRO 1977 - GUEST JURY HITS 1977
REGISTRATIONS (33)
Albania (V), Andorra (V), Austria, Belgium, Bosnia & Herzegovina, Bulgaria, Croatia, Finland, France, Germany, Greece, Iceland, Ireland, Israel, Italy, Lithuania (V), Luxembourg (V), Macedonia, Malta, Netherlands (*), Moldova (V), Norway, Poland, Portugal (*), Rest of the World, Russia, Sebria, Slovenia, Spain (*), Sweden, Switzerland, Turkey, United Kingdom
(V) - Voting only (*) - OGAE Club permitting/informed participation via national fan
EUROVISION 1977 - REMIND /INTRODUCE YOURSELF....
DATES FOR RETRO & GJH 1977
- Formal Invitation to all Clubs – 02/02/12 – COMPLETE
- Participation Confirmation Deadline – 30/06/12 - COMPLETE
- Song File, Artist Picture to be with SECHUK by – 07/07/12 - COMPLETE
- Order of Presentation Draw - 07/07/12 - COMPLETE
- Songs available for voting from - 09/07/12 - COMPLETE
- National Voting Period to 31 August 2012 (extended to 12 September 2012)
- On-Line Voting Reveal Starts 15 September 2012 (5 to 7 days)..
RULES FOR RETRO & GJH 1977
1. There are no direct costs for participation.
2. OGAE Clubs (where the Country held a National ESC Final for the Retro year in question) can choose their favourite (non-winning) song from their ESC Selection of that year for SECOND CHANCE RETRO.
3. All other OGAE Clubs can participate as Guest Juries for Second Chance Retro and also enter a Hit Song from the same year in GUEST JURY HITS.
4. A Guest Jury can still be a Guest Jury voting on both Contests without an entry in either Contest.
5. SECHUK will be the web resource for both Second Chance Retro and Guest Jury Hits.
6. Both SECOND CHANCE RETRO and GUEST JURY HITS are voted on by the same juries, from the same sound tracks (via free download links) and voting is revealed on both contests via this site. All Jury members must vote on both contests to keep the voting fair and even.
7. In some cases, OGAE Clubs decide not to participate, but with the agreement of that club, a fan in their country can arrange that country's participation instead (an active rule - added to the site 28/07/11).
8. Dates are issued (above) for the whole programme. Participating Clubs agree to abide by the deadlines, or face possible disqualification.
9. All clubs must position all songs in their voting. If any country does not submit votes by the agreed deadline, their song could be disqualified and all voting towards that song discounted.
RETRO 77 OPTIONS (ESC National Finals) :
OPTIONS INCLUDE EUROVISION STARS: Seija Simola, Colm C.T. Wilkinson, Maggie MacNeal, Gemini, Tomas Ledin, Piera Martell, Carole Vinci and Paola!
| | | | | | | | | |
| --- | --- | --- | --- | --- | --- | --- | --- | --- |
| BELGIUM | 01 | Dancing Man | - | Two Man Sound | 808 | F | 812 | 3rd |
| BELGIUM | 02 | Bye Bye Love | - | Two Man Sound | 740 | - | | |
| BELGIUM | 03 | A Million In 1,2,3 | - | Dream Express | 947 | F | 984 | 1st |
| BELGIUM | 04 | Sold It For A Song | - | Dream Express | 922 | - | | |
| BELGIUM | 05 | Go Get Your Mother | - | Trinity | 860 | - | | |
| BELGIUM | 06 | Drop Drop Drop | - | Trinity | 933 | F | 932 | 2nd |
| FINLAND | 01 | Palokankaan Maikki | Maikki From Palokangas | Eeva Kiviharju | 291 | 5th | | |
| FINLAND | 02 | Kuusitoista Hyvää Vuotta | Sixteen Good Years | Lasse Mårtenson | 232 | 7th | | |
| FINLAND | 03 | Lapponia | Lapland | Monica Aspelund | 431 | 1st | | |
| FINLAND | 04 | Kauan Sitten | Long Time Ago | Hortto Kaalo | 346 | 2nd | | |
| FINLAND | 05 | Yötön Yö | Light Night | Seija Simola | 190 | 9th | | |
| FINLAND | 06 | Luonasi Oon Kun Ilta Ennättää | I Am With You Until The Night Comes | Viktor Klimenko | 336 | 3rd | | |
| FINLAND | 07 | Liehuva Liekinvarsi | The Waving Flame | Markku Blomqvist | 206 | 8th | | |
| FINLAND | 08 | Illalla Sillalla | At Night On A Bridge | Finntrio | 296 | 4th | | |
| FINLAND | 09 | Rokkilaulaja | Rock Singer | Mikko Alatalo & Tabula Rasa | 273 | 6th | | |
| FRANCE | 01 | Chacun Sa Chanson D'amour | To Each Their Love Song | Pierre Charby | 3562 | 5th | | |
| FRANCE | 02 | La Vie Tu Sais | Life, You Know | Colin Verdier | 4845 | 4th | | |
| FRANCE | 03 | L'oiseau Et L'enfant | The Bird And The Child | Marie Myriam | 10178 | 1st | | |
| FRANCE | 04 | Du Côté De L'enfance | Towards Childhood | Delfine | 6066 | 3rd | | |
| FRANCE | 05 | Je Suis Comme Elle | I Am Like Her | Monique Pianéa | 2740 | 6th | | |
| FRANCE | 06 | La Poupée | The Doll | Corinne Colbert | 7565 | 2nd | | |
| IRELAND | 01 | If I Give My Love | - | Jamie Stone | 19 | 2nd | | |
| IRELAND | 02 | I Can't Go On Without You | - | Dickie Rock | 8 | 6th | | |
| IRELAND | 03 | Look Before You Leap | - | Sunshine | 0 | 8th | | |
| IRELAND | 04 | You Cannot Stop The Music | - | D.J. Curtin | 5 | 7th | | |
| IRELAND | 05 | It's Nice To Be In Love Again | - | The Swarbriggs Plus Two | 25 | 1st | | |
| IRELAND | 06 | Da-Dum-Da-Dum-Da I Love You So | - | Denis Allen | 12 | 5th | | |
| IRELAND | 07 | There Was A Dream | - | Colm C.T. Wilkinson | 18 | 3rd | | |
| IRELAND | 08 | Goodbye Goodbye | - | Chips | 13 | 4th | | |
| NETHERLANDS | 01 | Superster | Superstar | Oscar Harris | 5 | 6th= | | |
| NETHERLANDS | 02 | De Mallemolen | The Merry-Go-Round | Heddy Lester | 28 | 1st | | |
| NETHERLANDS | 03 | Annabelle | Annabelle | Arjan Brass | 4 | 9th | | |
| NETHERLANDS | 04 | Stop Me | Stop Me | Bonnie St.Claire | 23 | 2nd | | |
| NETHERLANDS | 05 | Toen Kwam Jij | Then You Came | Rita Hovink | 2 | 10th | | |
| NETHERLANDS | 06 | Jany | - | Air Bubble | 5 | 6th= | | |
| NETHERLANDS | 07 | Pinokkio | Pinocchio | Peter Cook | 8 | 4th | | |
| NETHERLANDS | 08 | Ik Wil De Wereld Laten Zien Dat Ik Kan Dansen | I Want To Show The World That I Can Dance | Loeki Knol | 5 | 6th= | | |
| NETHERLANDS | 09 | Jouw Lach | Your Smile | Dick Rienstra | 6 | 5th | | |
| NETHERLANDS | 10 | Jij Alleen | Only You | Maggie Macneal | 13 | 3rd | | |
| NORWAY | 01 | Robåt Rock | Rowing Boat Rock | Rune Larsen | 59 | 2nd | | |
| NORWAY | 02 | Jonathan | - | Dag Spantell | 42 | 5th | | |
| NORWAY | 03 | Make Love Not War | - | Odd Børre | 25 | 6th | | |
| NORWAY | 04 | Casanova | - | Anita Skorgan | 91 | 1st | | |
| NORWAY | 05 | Ikke Mitt Bord | It's Not My Table | Axel Gran | 55 | 4th | | |
| NORWAY | 06 | Sang | Song | Kirsti Sparboe & Benny Borg | 58 | 3rd | | |
| PORTUGAL | 01 | Portugal No Coração | Portugal In The Heart | Os Amigos | 62844 | 1st | | |
| PORTUGAL | 02 | Canção Sem Grades | Song Without Grids | Teresa Silva Carvalho | 692 | 13th | | |
| PORTUGAL | 03 | A Flor E O Fruto | The Flower And The Fruit | Fantástica Aventura | 39639 | 4th | | |
| PORTUGAL | 04 | O Que Custar | What It Will Cost | Green Windows | 4008 | 12th | | |
| PORTUGAL | 05 | Rita, Rita Limão | Rita, Rita Lemon | Green Windows | 56080 | 2nd | | |
| PORTUGAL | 06 | Férias | Holidays | Férias | 25132 | 7th | | |
| PORTUGAL | 07 | Fim De Estação | End Of Season | Vera Mónica & Carlos Quierós | 31749 | 5th | | |
| PORTUGAL | 08 | Portugal No Coração | Portugal In My Heart | Gemini | 25283 | 6th | | |
| PORTUGAL | 09 | Canção Sem Grades | Song Without Grids | José Freire | 213 | 14th | | |
| PORTUGAL | 10 | A Flor E O Fruto | The Flower And The Fruit | Conjunto Maria Albertina | 5846 | 11th | | |
| PORTUGAL | 11 | O Que Custar | What It Will Cost | Quarteto 1111 | 11546 | 9th | | |
| PORTUGAL | 12 | Rita, Rita Limão | Rita, Rita Lemon | Cara Ou Coroa | 23109 | 8th | | |
| PORTUGAL | 13 | Férias | Holidays | Paco Bandeira | 6305 | 10th | | |
| PORTUGAL | 14 | Fim De Estação | End Of Season | Bric-À-Brac | 47478 | 3rd | | |
| SWEDEN | 01 | Det Bästa Som Finns | The Best Things There Are | Lena Andersson | 55 | 8th | | |
| SWEDEN | 02 | Åh, Vilken Sång | Oh, What A Song | Greta & Malou | 72 | 4th | | |
| SWEDEN | 03 | Du Och Jag Och Sommaren | You And Me And The Summer | Mats Radberg | 19 | 10th | | |
| SWEDEN | 04 | Sommar'n-65 | The Summer Of '65 | Landslaget | 73 | 3rd | | |
| SWEDEN | 05 | Ola Mä Fiola | Ola With The Violin | Kennet Greuz | 47 | 9th | | |
| SWEDEN | 06 | Minns Du Hollywood | Do You Remember Hollywood | Tomas Ledin | 63 | 5th | | |
| SWEDEN | 07 | Johan B. Lund | - | Svante Thuresson | 75 | 2nd | | |
| SWEDEN | 08 | Trädets Rot | The Root Of The Tree | Janne Landegren | 60 | 6th | | |
| SWEDEN | 09 | Charlie Chaplin | - | Eva Rydberg | 57 | 7th | | |
| SWEDEN | 10 | Beatles | - | Forbes | 117 | 1st | | |
| SWITZERLAND | 01 | Viens Avec Nous | Come With Us | Sweet People | 34 | 3rd | | |
| SWITZERLAND | 02 | Heyho | - | Véronique Müller | 18 | 6th | | |
| SWITZERLAND | 03 | Aldo Rinaldo | Aldo Rinaldo | Piera Martell | 26 | 4th= | | |
| SWITZERLAND | 04 | Passo...Vedo | Step...I See | Leonia | 17 | 7th | | |
| SWITZERLAND | 05 | Swiss Lady | - | Pepe Lienhard Band | 45 | 1st | | |
| SWITZERLAND | 06 | Dites-Moi Ce Qu'est L'amour | Tell Me What Love Is | Carole Vinci | 26 | 4th= | | |
| SWITZERLAND | 07 | Le Coeur Dans Les Nuages | The Heart In The Clouds | Gérald Matthey | 15 | 8th | | |
| SWITZERLAND | 08 | Faites La Vie | Live Life | Frédérique Sand | 7 | 9th | | |
| SWITZERLAND | 09 | Le Livre Blanc | The White Book | Paola | 40 | 2nd | | |
| UK | 01 | What Do You Say To Love | - | Mary Mason | 132 | 2nd | | |
| UK | 02 | Where Were You When I Needed Your Love | - | The Foundations | 126 | 3rd | | |
| UK | 03 | Leave A Little Love | - | Tony Monopoly | 66 | 9th | | |
| UK | 04 | If Everybody Loved The Same As You | - | Lyn Paul | 74 | 6th= | | |
| UK | 05 | Just For You | - | High Society | 74 | 6th= | | |
| UK | 06 | A Little Give, A Little Take | - | Carl Wayne | 59 | 11th | | |
| UK | 07 | Rock Bottom | - | Lynsey De Paul & Mike Moran | 143 | 1st | | |
| UK | 08 | You're My Sweet Sensation | - | Sweet Sensation | 73 | 8th | | |
| UK | 09 | Swings And Roundabouts | - | Val Stokes | 57 | 12th | | |
| UK | 10 | Everybody Knows | - | Beano | 60 | 10th | | |
| UK | 11 | After All This Time | - | Wesley, Park & Smith | 106 | 5th | | |
| UK | 12 | Promises, Promises | - | Rags | 120 | 4th | | |