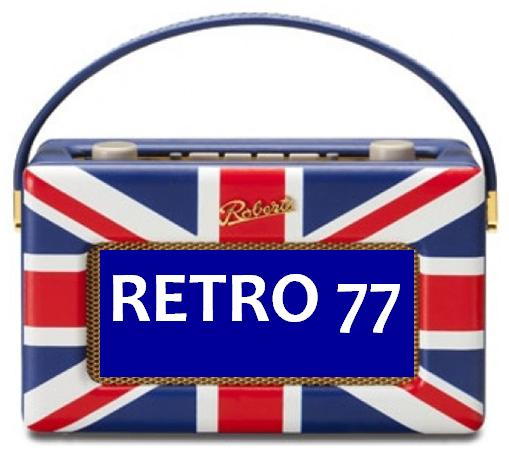 ...
......
SECOND CHANCE RETRO 1977 & GUEST JURY HITS 1977
FINAL SONG LISTS
33 Countries/Clubs are participating - 10 have songs in SECOND CHANCE RETRO 1977 (songs from Eurovision National Finals of 1977) and 18 have hit songs from their country from 1977. 5 will vote only. Juries in all clubs/countries vote on both contests, resulting in 2 winners.
Albania (V), Andorra (V), Austria, Belgium, Bosnia & Herzegovina, Bulgaria, Croatia, Finland, France, Germany, Greece, Iceland, Ireland, Israel, Italy, Lithuania (V), Luxembourg (V), Macedonia, Malta, Netherlands (*), Moldova (V), Norway, Poland, Portugal (*), Rest of the World, Russia, Serbia, Slovenia, Spain (*), Sweden, Switzerland, Turkey, United Kingdom
(V) - Voting only (*) - OGAE Club permitting/informed participation via national fan
Want to hear the songs? Email sechukweb@aol.com Voting is only via National Juries. Click here for background information
SECOND CHANCE RETRO 1977
01

BELGIUM

Sold It For A Song

Dream Express

02

SWITZERLAND

Le Livre Blanc

(The White Book)

Paola

03

NETHERLANDS

Stop Me

Bonnie St. Claire

04

SWEDEN

Ĺh Vilken Sĺng

(Oh What A Song)

Greta & Malou

05

FINLAND

Liehuva Liekinvarsi

(Waving Flame)

Markku Blomqvist

06

UNITED KINGDOM

What Do You Say To Love

Mary Mason

07

PORTUGAL

A Flor E O Fruto

(The Flower And The Fruit)

Fantástica Aventura

08

NORWAY

Sang

(Song)

Kirsti Sparboe & Benny Borg

09

IRELAND

Goodbye, Goodbye

Chips

10

FRANCE

Vis Ta Vie

(Live Your Life)

Patricia Lavila
GUEST JURY HITS 1977
01

SLOVENIA

Dekle Iz Zlate Ladjice

(Girl From The Golden Ship)

Pepel In Kri

02

ISRAEL

Otcha

(You)

Ilana Avital

03

POLAND

Jak Się Masz Kochanie

(How Are You, Darling?)

Happy End

04

GREECE

I Love, I Love, I Love You

Paschalis, Marianna, Robert & Bessy

05

GERMANY

Heidi

Gitti & Erica

06

CROATIA

Diridonda

Novi Fosili

07

RUSSIA

U Prirody Net Plokhoy Pogody

(Nature Doesn't Have Bad Weather))

Alisa Freyndlikh

08

SPAIN

Rómpeme, Mátame

(Break Me, Kill Me)

Trigo Limpio

09

BULGARIA

Neka Da E Lqto

(Let It Be Summer)

Tonika

10

BOSNIA & HERZEGOVINA

Sinoć Pod Prozorom Njenim

(Under Her Window Last Night)

Kemal Monteno

11

ITALY

Ti Amo

(I Love You)

Umberto Tozzi

12

AUSTRIA

Mr. Captain

Springtime

13

TURKEY

Bal Gibi Olur

(Its Like Honey)

Asu Muralman

14

ICELAND

Lítill Drengur

(Little Boy)

Vilhjámur Vilhjámsson

15

MACEDONIA (FYR)

D'zm, D'zm, D'zm

Grupa Makedonija

16

MALTA

Xemx

(Sun)

The Tramps

17

SERBIA

Pjevam Danju, Pvejam Noću

(I Sing By Day, I Sing By Night)

Zdravko Čolić

18

REST OF THE WORLD

Go Your Own Way

Fleetwood Mac
VOTING (ONLY) JURIES
ALBANIA ANDORRA LITHUANIA LUXEMBOURG MOLDOVA
DATES FOR RETRO & GJH 1977
- Formal Invitation to all Clubs – 02/02/12 – COMPLETE
- Participation Confirmation Deadline – 30/06/12 - COMPLETE
- Song File, Artist Picture to be with SECHUK by – 07/07/12 - COMPLETE
- Order of Presentation Draw - 07/07/12 - COMPLETE
- Songs available for voting from - 09/07/12 - COMPLETE
- National Voting Period to 31 August 2012 (extended to 12 September 2012)
- On-Line Voting Reveal Starts 15 September 2012 (5 to 7 days)..
RULES FOR RETRO & GJH 1977
1. There are no direct costs for participation.
2. OGAE Clubs (where the Country held a National ESC Final for the Retro year in question) can choose their favourite (non-winning) song from their ESC Selection of that year for SECOND CHANCE RETRO.
3. All other OGAE Clubs can participate as Guest Juries for Second Chance Retro and also enter a Hit Song from the same year in GUEST JURY HITS.
4. A Guest Jury can still be a Guest Jury voting on both Contests without an entry in either Contest.
5. SECHUK will be the web resource for both Second Chance Retro and Guest Jury Hits.
6. Both SECOND CHANCE RETRO and GUEST JURY HITS are voted on by the same juries, from the same sound tracks (via free download links) and voting is revealed on both contests via this site. All Jury members must vote on both contests to keep the voting fair and even.
7. In some cases, OGAE Clubs decide not to participate, but with the agreement of that club, a fan in their country can arrange that country's participation instead (an active rule - added to the site 28/07/11).
8. Dates are issued (above) for the whole programme. Participating Clubs agree to abide by the deadlines, or face possible disqualification.
9. All clubs must position all songs in their voting. If any country does not submit votes by the agreed deadline, their song could be disqualified and all voting towards that song discounted.