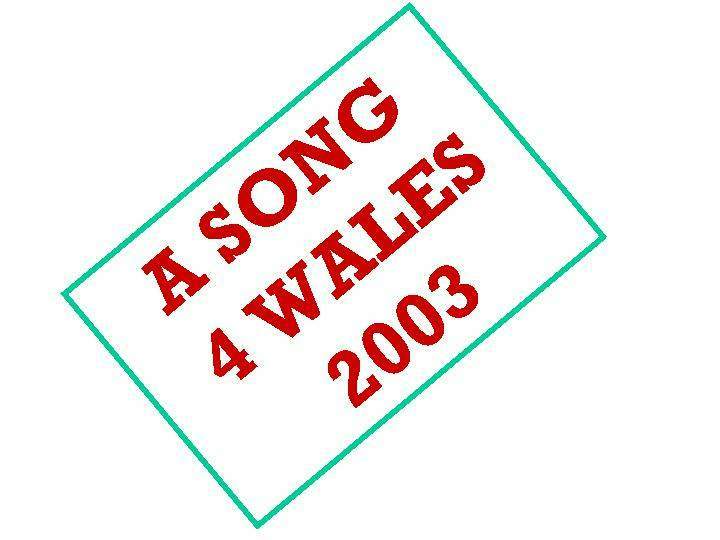 A SONG 4 WALES 2003
Fifteen Songs participated to represent Wales in WPSF 2003.
Ten Jurors from Belgium, Bosnia, England, Italy, Macedonia, Malta, Netherlands, Sweden, Turkey and Wales have helped decide the entry for Wales in 2003.
Below are the participating songs and Jury list.
Click here for the voting and results..
CONTENDERS
| | | | | |
| --- | --- | --- | --- | --- |
| 01 | rhy gry | too strong | pheena | |
| 02 | y pethe bach wyt ti'n neud | the little things you do | eden | |
| 03 | oes lle i mi? | is there a place for me? | non & steffan | |
| 04 | sibrwrd yn yr yd | whispers through the corn | angharad brinn | |
| 05 | medde ti | you say | ian matthews | |
| 06 | heno | tonight | dafydd du | |
| 07 | aros amdana i | wait for me | carys | |
| 08 | sdim byd yn newid | nothing changes | laura sutton | |
| 09 | meganomeg | meganomix | mega | |
| 10 | mi ddaw | it will come | elena | |
| 11 | y boen achosais i | the pain I caused | eden | |
| 12 | rhan ohana'i | part of me | mega | |
| 13 | gwrando i'r calon | listen to the heart | dylan evans | |
| 14 | llwybr lawr i'r dyffryn | the pathway to the valley | elin fflur | |
| 15 | ar ddiwedd y dydd | at the end of the day | diffiniad | |
JURY
| | | | | | | |
| --- | --- | --- | --- | --- | --- | --- |
| 01 | England | Andrew Cross | | 06 | Italy | Federico Stufi |
| 02 | Turkey | Aykut Berber | | 07 | Wales | Gary Speirs |
| 03 | Netherlands | Bert Tuk | | 08 | Bosnia | Igor Glavanović |
| 04 | Malta | Deo Grech | | 09 | Sweden | Leif Thorsson |
| 05 | Belgium | Douwe Reveler | | 10 | Macedonia | Vladimir Pinzovski |