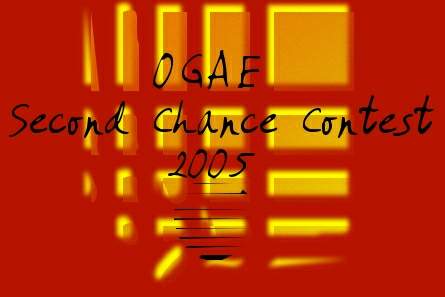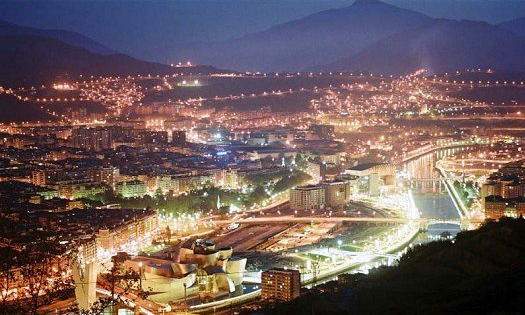 BILBAO - OCTOBER 28th 2005
THE DRAW & NEWS
11 Nov - OGAE Spain to send results to all clubs next week. See the results here from 02 December.
30 Oct - Awaiting news from OGAE Spain.....
30 Jun - Sad news from Spain - Sadly, Estonia has been disqualified from the OGAE Second Chance Contest 2005. After many mails waiting for reply we did not get any response. OGAE Estonia has not followed the rules.
07 Jun - Songs being issued to Voting Countries.
01 May - ALL SONGS KNOWN!
09 Apr - OGAE Spain advises the Draw for the 2005 OGAE Second Chance Contest!
As entries are announced, they will be added to this Draw Table.
Click here for old news and important dates for OGAE Clubs.
01
UNITED KINGDOM
BRAND NEW DAY
Tricolore

02
MACEDONIA
SONCE I MESECINA

(The Sun And The Moon)

Aleksandra Pileva

03
NORWAY
I AM ROCK 'N' ROLL
Jorun Erdal

04
AUSTRIA
DREAMING
Global Kryner

05
LATVIA
IN YOUR ARMS
Flash

06
NETHERLANDS
BABY IT'S YOU
Chastity

07
CROATIA
PROLJECE

(Springtime)

Luka Nižetic & Klapa Nostalgija

08
FRANCE
JE M'ENVOLE
Lionel Tim

09
DENMARK
LITTLE YELLOW RADIO
Olsen Brothers

10
RUSSIA
LETALA DA PELA

(Flew & Sang)

Varvara

11
FINLAND
KISS ME
Jennie

12
ESTONIA

DISQUALIFIED

HAVE YOU EVER
Rebecca Kontus

13
SPAIN
ARRIBA EL MUNDO

(Come On World)

Yulia

14
SERBIA & MONTENEGRO
JUTRO

(Morning)

Jelena Tomasevic

15
TURKEY
TEK ISTEGIM

(My Only Wish)

Nursel Efe

16
GERMANY
MIRACLE OF LOVE
Nicole Süssmilch & Marco Matias

17
BELGIUM
LOST PARADISE
Tiffany Ciely

18
MALTA
DEJA VU
Olivia Lewis

19
BOSNIA-HERZEGOVINA
JABUKA

(Apple)

Igor Vukojevic

20
GREECE
LET'S GET WILD
Helena Paparizou

21
SLOVENIA
METULJ

(Butterfly)

Sasa Lendero

22
IRELAND
DREAMING OF YOU
The Henry Girls

23
ISRAEL
CHALOM
Rinat Ber

24
SWEDEN
ALCASTAR
Alcazar