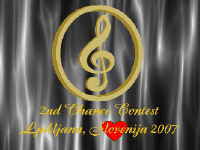 OGAE SECOND CHANCE 2007
Its that time of year again! All the entries have been selected for Eurovision - but what about those great songs that didn't make it? OGAE Clubs around Europe will decide the best of those songs, as each Country now selects it entry to OGAE's Second Chance Contest for 2007..
Second Chance 2007 takes place in Slovenia (2006 Winners) this year.
If the large file animated gif does not appear above, click here to see a static version of the logo
NEWS
NEW - SECOND CHANCE 2007 VIDEOS
Entries expected from : Portugal, Denmark, Spain, Sweden, Slovenia, Greece, Ireland, Poland, France, Norway, Macedonia, Germany, Croatia, Malta, Netherlands, Israel, Ukraine, Finland, Serbia, Moldova, Estonia and the United Kingdom.

Confirmed Guest Juries : Italy, Andorra, Rest of the World, Austria, Belgium, Lebanon and Moldova.
16 APRIL - NOW IN DRAW ORDER - Thanks to OGAE Slovenia.
17 SEPTEMBER - FINLAND'S ENTRY DISQUALIFIED (OGAE Finland have been expelled from the OGAE Network).
GUEST JURY VOTING ORDER - Rest of the World, Lebanon, Italy, Andorra, Belgium, Austria, Moldova.
01

IRELAND

Until We Meet Again

Dervish

02

SLOVENIA

Cudezi Smehljaja

(The Miracle of a Smile)

Eva Cerne

03

MALTA

She Gives Me Wings

Klinsmann Coleiro

04

MACEDONIA

Kazi Koj Si Ti

Tamara Todevska

05

CROATIA

Samo Probaj

(Just Try)

Ivana Radovnikovic

06

GREECE

With Love

Tamta

07

UNITED KINGDOM

See Full Voting Here

I'll Leave My Heart

Cyndi Alzoumi

08

POLAND

Emily

Charizma

09

PORTUGAL

Da-me a Lua

(Give Me The Moon)

TribUrbana

10

DENMARK

Two Are Stronger Than One

Me & My

11

FRANCE

On and On

Medi-T

12

ISRAEL

12 Points

Teapacks

13

GERMANY

Even Heaven Cries

Monrose

14

NETHERLANDS

Een Keer Meer Dan Jij

Edsilia Rombley

15

SERBIA

Nebo

Slobodan Trkulja & Balkanopolis

16

UKRAINE

I Will Be

Yevgenia Vlasova

17

ESTONIA

Veidi Veel

Kooit Toome

18

SPAIN

La Reina de la Noche

Mirela

19

NORWAY

Wannabe

Crash

20

SWEDEN

Cara Mia

Måns Zelmerlöw
..
Withdrawn

- a National Final TV performance not available

MOLDOVA

Your Place Or Mine

Olia Tira

Disqualified

- Finland expelled from the OGAE Network (09/07)

FINLAND

Olet Uneni Kaunein

Johanna Kurkela