OGAE Video Contest
Istanbul 20
03
*** NEW *** Results *** NEW ***
(Thanks to Aykut Berber, OGAE Turkey)
At the OGAE Club Meeting in Riga in May 2003, OGAE Turkey invited all OGAE clubs to participate in a brand new contest: the OGAE Video Contest 2003, with the first Contest to be held in Istanbul.

The idea is to have a high quality visual contest with songs from around Europe. Interesting videos are produced in many countries and the purpose of this contest is to entertain with clips eminating from different European nations. Letís share the best of them!
The rules will follows those of the OGAE Song Contest, keeping them simple, basic, and entertaining...

Clubs will be able to submit video clips from their pop charts (in any language but not to exceed 5 minutes, and not to be a re-mix version or a concert performance). The songs must be released either in 2002 or 2003. The Contest will run during the summer - stay tuned for more news from Turkey.

This Contest will bring the opportunity to explore the beautiful city of Istanbul - the potential host for Eurovision 2004!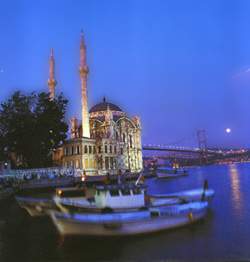 Istanbul is ready with its streets, bars, clubs, the Bosphorus, etc. to shoot the postcards of this contest the whole summer. An organisation team has already been created in order to produce a nice entertaining show with Istanbul postcards, handbook, scoreboard, etc...
Organising Team:
Coordinator: Aykut BERBER
Producer: Baris ANGAY
Director: Tayfun OCAL
Creative Director: Olcay TANBERKEN
Presenters: Umut CERTEL (English), Erkut EMCIOGLU (French)
Voting Coordinators: Tolga IRKAN, Feridun OZVEREN
Participation
Participation is open to OGAE Clubs Ė contact your National Club for further information