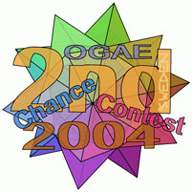 Second Chance 2004 - Sweden
THE VOTING

Thanks to OGAE Sweden and Martin (pictured) ...... the results are available!
Please note that Israel and Estonia both withdrew from the 2004 Contest.
National votes have been amended to reflect this.
Here are links to the full voting for Second Chance 2004.
The voting is split over 4 pages to give staged scores for those who like to enjoy the votes unfolding. For those who just want the final results, there is a link to the 2004 Positions Page and the full voting table.
Enjoy!
VOTING PAGE 1 - with the results from ....... Malta, Slovenia, United Kingdom, Finland, Croatia and Poland
VOTING PAGE 2 - adding the results from ....... Portugal, Norway, Germany, Sweden, Turkey and Denmark
VOTING PAGE 3 - adding the results from ....... Spain, Latvia, Bosnia & Herzegovina, Macedonia, Austria and Greece
VOTING PAGE 4 - adding the results from ...... Serbia & Montenegro, Belgium, Netherlands, France, Ireland and Italy